The University of Nebraska–Lincoln has significant experience in teaching and understanding the needs of students learning online.
You will experience courses that are:
Designed around best practices in online pedagogy
Taught by faculty with experience teaching online students
Created using technology that establishes an excellent learning environment
Types of Courses
In most cases, online courses can be completed entirely online. Some courses do require that tests be proctored face-to-face, although this proctoring can still happen at a distance. See Blended and Hybrid Programs for a list of programs that require a short residency.
Course Formats
Each online course is delivered using any combination of formats below:
Internet
Email
Videoconferencing
Online learning management system, such as Canvas
Class Exam Options
You'll be able to tell the type of exam associated with each course when you register in MyRed, the University of Nebraska–Lincoln's registration system.
Class Schedules
Most online/distance courses follow the university semester calendar.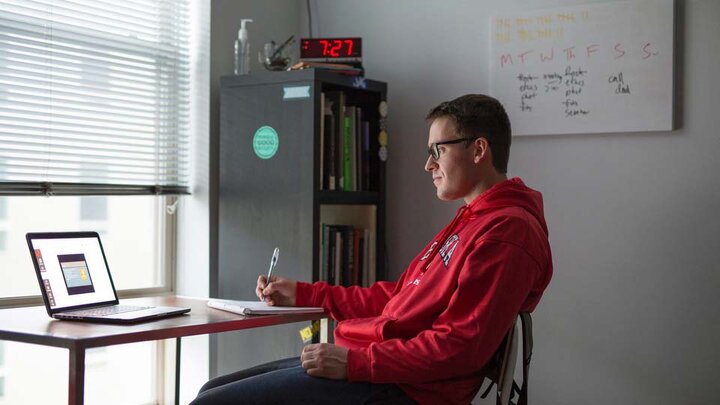 for a three-credit-hour class
(up to 3-4 hours per week for every course credit hour)
You Set the Schedule
Most online courses do not have regular meeting times (known as asynchronous). Even though these courses do not have regularly scheduled class times, you are still required to complete assignments and exams by specific deadlines. You may need to attend group project sessions at times convenient for the entire group, join in synchronous (real-time) office hours, attend online presentations, or participate in real-time exam reviews.
You should expect to spend up to 3-4 hours per week for every course credit hour. Thus, you should plan on devoting up to 12-15 hours per week for a three-credit-hour class. You should expect to post to discussion boards, blogs and journals; participate in group projects; complete readings and engage with videos, podcasts, and presentations; or be a part of other activities consistently throughout the week.
As an online student, you will be interacting with other students and your instructor. You will meet students from many different backgrounds and situations. Using chat, video conferencing, phone calls, email, social media, discussion boards, and more, you can stay connected with fellow students and faculty, building networks that will last long after your class has ended.
Your courses are taught by faculty who understand the specific needs of online learners. Special consideration is given to advance planning and setting expectations in the online classroom; thus, each class is outlined in a syllabus distributed at the start of the course. The syllabus is your guide to the class—it provides an overview of the course assignments, grading strategy, expectations, course materials, deadlines, course goals, and learning outcomes.